Popular Books On Sale Now - 25 % Off
Upland Gamebirds - (FREE Shipping to U.S. destinations) ... Details Here.
Chinese Painted Quail - (FREE Shipping to U.S. destinations) ... Details Here.


---
Learn How to Raise and Keep Wild Game Birds
We offer information and tips on raising quail, pheasant, partridge, waterfowl, guineafowl and many other species of wild game birds that you have wanted to keep. If you are a beginner there are detailed instructions written with a 'how to' approach. We have information available in both printed books and CD media. If you want articles to read about game birds, this is the ideal site for you!
Dr. Leland Hayes writes and edits the information. Dr. Hayes is the leading authority on game birds in the English speaking world. He has written many books and articles on the subject and is known for his down to earth approach in easy to understand English. Google him and find out for yourself.
We offer an "Iron-Clad" guarantee. We will refund your money if you are not satisfied for any reason on any of our non-download products.
---
Living With ... Gambel's Quail on CD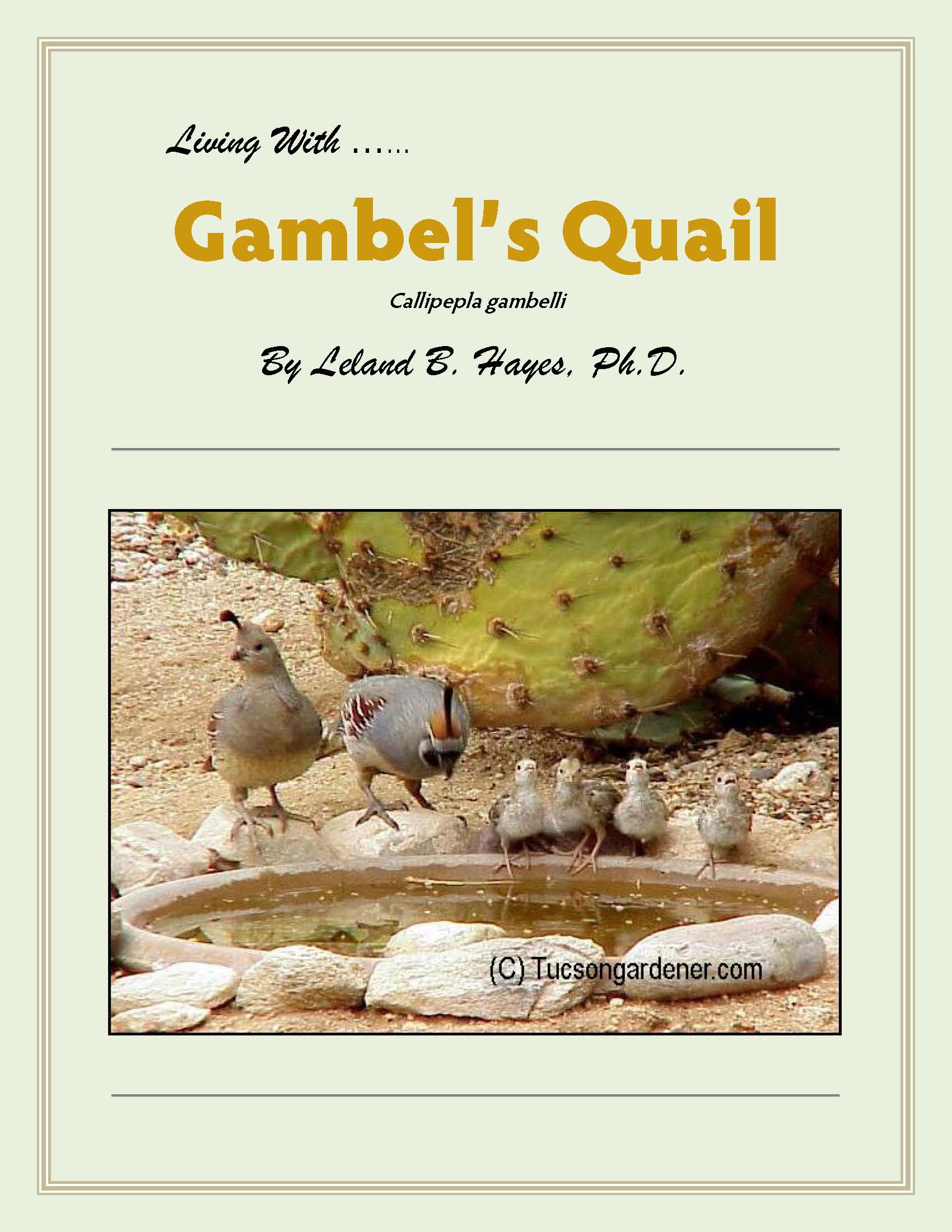 Here is a new book in PDF form that will please anyone that loves the perky Gambel's Quail.
Much of the book comes from experiences from many years living with these marvelous birds. The book is written with the novice bird breeder in mind but has some new information that will interest even the most experienced breeder.
"As I thought about these birds and what I could say about them, I got the idea of putting myself in their place. What would they want us to know about themselves? I know that if you are around them you will see how they are constantly chat¬tering they want us to know about something or another. I wonder what they are saying. They could tell some great stories about their survival and habits, about where they live, raise their families to survive or die.
I so wish I could speak "Gambelese!" I know if I could, my life would be much richer from knowing these snappy desert quail."
In 50 pages the author takes the reader from the desert homes and lifestyles, to the laying and raising of youngsters, and into the pens of the fortunate breeders who have them.

You can

$ 15.95
---
All About ... The Desert Quails on CD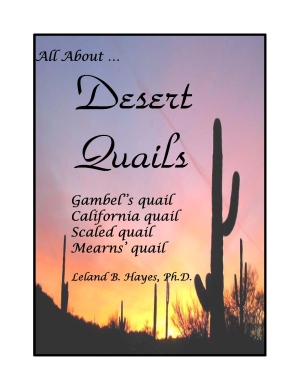 The great deserts of Southwestern America are filled with the beautiful sounds of some of the most interesting North American quail.
The Gambel's, the California Valley, the Scaled, and the Mearns' quail all make interesting aviary birds for the beginner and advanced aviculturalist. The more that is known about these quail - the more wonderful they become.
This 163 page new book on CD includes recent information gathered in the field by biologists along with the already known information. Besides the natural history of each of these four species, there is information on how to raise them in captivity from egg to mature bird. Tips are given that should be invaluable to the reader.
If you love birds, and especially quail, you must get this book on CD. It is full of color photographs and sounds of quail which do much to tell their story.
A unique feature about this and other PDF format books is the idea that the fine color can be seen on your computer screen and for detailed study, they can be printed in black and white or color. To read a few pages of this book, Click here!

Or, you can

$ 16.95
---
All About ... Ruffed Pheasants on CD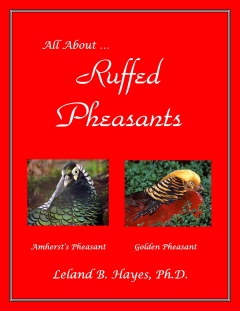 Said to be the most popular ornamental pheasants, the Lady Amherst's and the Golden pheasants are royalty and sit on the "bird thrones" of aviculture. When one sees these birds up close, their beauty and character jumps out to the viewer. In all the bird world, there are no other gamebirds kept that quite match these two pheasants.
This 69 page book on CD, Ruffed Pheasants, has information about the keeping and raising of these birds. The author goes all out to present to the reader clear and detailed information about how a novice can get started and be a success raising Lady Amherst's and Golden pheasants.
There are many full color photographs that will enhance and illustrate the material in the book. In PDF format, this book can be read in full color from your computer screen or printed out with a black and white or color printer for deliberate study.
This book on CD is written in language easily understood with a flavor of "one who loves birds". To read a few pages of this book, Click here!

Or, you can

$ 13.95
---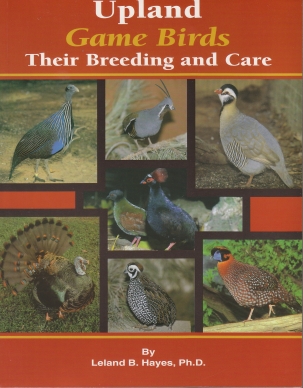 Upland GameBirds
Upland game birds (Galliformes) is a very fascinating and popular family of birds. They are found all over the world and most are ground dwelling. They have become a very popular back yard species where room for aviaries is limited as some are quite small. Other members of this family are quite large and striking.
One lovely thing about the upland game birds, they are very colorful for the most part. While some may be called drab in coloration, the male birds sport outstanding coloration with patterns that only Mother Nature could design. Besides being attractive, their undying popularity is due in part to the fact that some species can lay many eggs. More ... Click here.

Or, you can

$ 26.20
This popular book, Upland Game Birds, Their Breeding and Care, is now also available in a searchable PDF Version on CD. The reader can search the entire book for words or phrases of interest and go right to them with the click of a button. This is most valuable if information is wanted, for example, on a specific game bird, such as quail, pheasants, partridges, or if you need information about any of the topics associated with the raising of any type of game bird.
You can get just the CD for $ 17.95

If you prefer to have both the CD version and the book, you can get both for only $ 46.00

---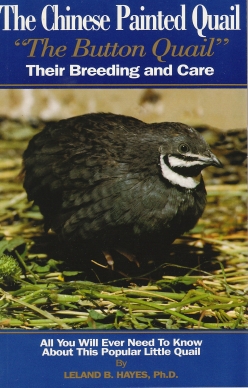 Chinese Painted Quail
The great popularity of Chinese Painted Quail (also know as Button Quail) among aviculturists comes only partly from their tiny size and vibrancy of color. A large part of their popularity results from their availability and ease of care. It matures at six weeks of age and will lay an egg every day of it's life if it receives a proper diet.
Chinese Painted Quail can be raised totally on commercial game bird feed as their nutritional requirements are very similar to Turkeys. Do not feed them a ration prepared for laying hens or chickens as there is not enough protein in these feeds. More ... Click here.

Or, you can

$ 9.75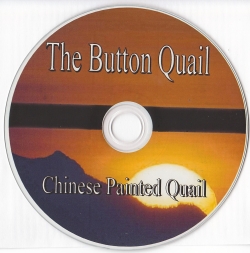 The book is now also available on CD, The CD (PDF format) is a replicate of the entire 160 page book in print. It has the advantage of being "searchable" using the Free Adobe Reader program. You can have the answers to your questions at the click of the computer button. Some like to have the book in print along with the CD so they can take it with them to read.
You can get just the CD for $ 7.95

If you prefer to have both the CD version and the book, you can get both for only $ 16.95

---
The Quail Breeders' Newsletter Collection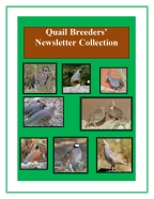 All 13 issues of the popular Quail Breeders Newsletter are now available on a CD.

The CD contains information for both novice and experienced game bird breeders. There are 57 articles about quail and their propagation.

Both common and more rare species of Quail are discussed in detail including their natural history and successful techniques for the breeder.

Also includes information on other related topics such as Game Bird Finances, Hatching eggs, Brooding chicks, and Building pens.

You can get a Free Read download to see for yourself ... Click here..

Or, you can

$ 14.95
---
Free PDF Articles
The Reeves' Pheasant
These rather large pheasants not only have a beautiful color pattern, but have "personality plus." The males can be rather aggressive toward their keepers. Our mature male was always watched very carefully. Our children would not go into the pen with him and when we had to feed and water, it was a stand-off on who would intimidate whom. I like to think that we won as we never got jumped on, but I am sure that the male pheasant thought that he got the best of us. We had a trio in a very large pen and they kept their tail feathers in good condition. To do justice to a beautiful long-tailed bird like the Reeve's one should have them in a large pen. Never put in another bird of any species with them or the poor thing will surely be killed. The young chicks are also aggressive toward others and will even fight among themselves. They are hardy and a pleasure to have around.
More ... Click here.
The Red-Breasted Goose
For many years while the Russian possessions were more or less closed to foreigners, very little was known about the very beautiful Red-breasted goose. Occasionally one or two pairs would be brought out but generally they were unknown to the avicultural world. The few that were in the hands of zoos and private breeders were not producing in captivity. The word got out that they would not produce in captivity for some unknown reason. Probably this bad reputation was the result of the sexes being identical (except the female is slightly smaller than the male). Some began to produce in captivity when vent sexing came about and true pairs were put together in happy environments. More ... Click here.
---
The Free Leland Hayes' Gamebird eZine
This publication is no longer published on a regular basis. Certain issues are available below ...
Special Edition
This issue has information on Quail disease (Ulcerated or Ulcerative Enteritis) which affects Bobwhite, California, Mountain and Gambel's quail, Sharptail and Ruffed grouse, Chukar and European partridge, Wild turkey, and of course domestic poultry. If you are in the gamebird business (or hobby) you have either a chronic, periodic, or infrequent outbreak, or a consistent fear of Enteritis. This one disease of quail nearly makes a preventative level of antibiotic in feed a necessity. News articles about antibiotic bans in livestock heap an additional layer of stress on the already stressed bird grower. To read the rest of the Special Edition eZine ... Click here.
eZine Archives
Past issues of the ezine are available online ... Browse Gamebird eZine Archives